Flights to Phu Quoc
Are you looking for a flight to Phu Quoc? Discover the itineraries and round-trip, one-way flight tickets to Phu Quoc at Bamboo Airways right here.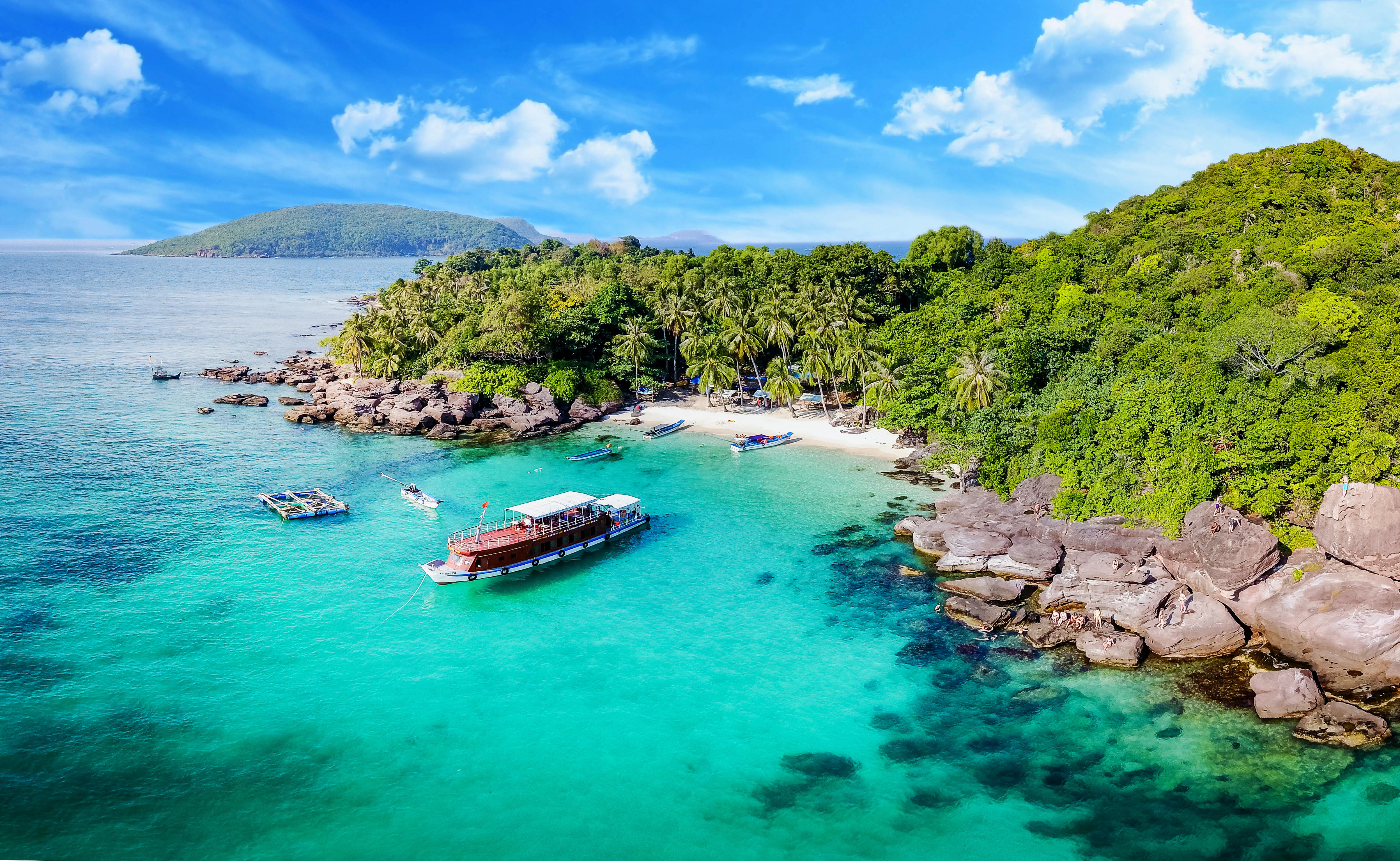 Book cheap flight tickets to Phu Quoc at Bamboo Airways to admire the beautiful pearl island.
Phu Quoc Island is located in Kien Giang province, about 400 km from Ho Chi Minh City to the West. This place attracts local and foreign tourists thanks to various types of tourism, along with beautiful seas, islands, and forests, captivating every visitor. To directly admire this beauty in the near future, you may choose a flight ticket to Phu Quoc at Bamboo Airways!
Information about Phu Quoc airport
Phu Quoc Airport (airport code "PQC") is located in the South of Phu Quoc island, about 10 km to the North of Duong Dong town center. Phu Quoc Airport is evaluated as an airport satisfying international standards, including 2 terminals, one local terminal and one international terminal, with 36 check-in counters and many other areas fully equipped with modern equipment.
Attractions in Phu Quoc
Rach Vem fishing village: Rach Vem fishing village is visited by many tourists as it is famous for check-in photos of blue water and countless red starfish. Don't forget to visit the floating rafts to enjoy fresh seafood here!
Ganh Dau Cape: For those who love "virtual living", Ganh Dau cape will surely make you mesmerized by the picturesque sea and mountains. If you have time, don't forget to soak in the clear water and stay until the afternoon to watch the sunset over the sea.
VinPearl Land: This place is suitable for all ages, because there are countless adventure games with many levels. Besides, Vinpearl Land has many beautiful photography areas, a giant aquarium and impressive water music shows.
Ideal travel time
The most ideal time to travel to Phu Quoc is from November to April next year. This is the dry season in the South, with little rain, calm sea, calm waves and sunshine, suitable for outdoor travel activities. This season is suitable for resort tours, not suitable for backpackers.
Tips to hunt for cheap Phu Quoc flight tickets
To book cheap flight tickets to Phu Quoc, you should not ignore the following tips:
If you come to Phu Quoc on holidays or peak seasons, you should plan and book flight tickets to Phu Quoc a few months in advance.
It is recommended to book round-trip flight tickets to Phu Quoc to receive more incentives instead of one-way tickets.
You may choose flights early in the morning or late at night for cost saving.
Prioritize choosing flight tickets on weekdays to avoid the expensive flight tickets to Phu Quoc.
Don't forget to register to receive the promotional news or register for a Bamboo Club membership card to receive many offers when booking tickets.
Learn more the Phu Quoc travel guide
Discover more routes to Phu Quoc
Flights from Ho Chi Minh City to Phu Quoc | Flights from Hanoi to Phu Quoc | Flights from Da Nang to Phu Quoc